Are you ready for YOUR social media marketing efforts to turn your Big Business Goals into your REAL life? 
We want to help you learn about social media for your business. Our membership and community will give you the tips and tricks to create a killer strategy for Facebook, Instagram, LinkedIn and more!
We'll show you how to do it all without having to pay costly social media management fees.
This is all about teaching you how to get a system in place that turns content creation into a well-oiled machine.
When you signed up to business owner life, you didn't sign up to full time social media manager life too.
You see other businesses who are going viral but your most recent post is gathering dust.
You are spending hours obsessing over Canva templates for the Perfect Social Media Post.
You are ready to throw the towel in (or throw the phone) on social media altogether.
Instagram has released yet another feature and you're feeling left behind
Let's cut to the chase here -
You're spending all this time on social media content when you should be spending it on your business and your social media efforts are just not generating any new sales.
But, like my Brainiacs members before they joined in the community, you might have trouble staying consistent or you don't know what that even means and where to start.
If that's the case — Brainiacs is the support you need to feel more confident, get results and use social media marketing to complement your Big Business Goals. 
With the amount of time that you have spent, scrolling through the newsfeeds of ALL the social media experts, isn't it about time you got some REAL, till-ringin' results that encourage you to turn off your laptop at the end of your working day, without feeling that social media anxiety hanging over you and making your second guess your content?
Say "See ya" to panic posting and "How You Doin'?" to content with intent, to reach your Big Business Goals.
Introducing Brainiacs.

The supportive social media learning platform, dissolving digital marketing overwhelm and transforming social media mindset for business owners.   
Over the past four years since starting my business, I have worked with tonnes of service based business owners.
E

ntrepreneurs who are ready to roll up their sleeves and get their social media marketing hands dirty. 



Solopreneurs who feel like they've exhausted all other efforts and are ready to take action with the support of an expert.
Business owners who actually love the creative side of social media, so don't want to give that part up - but just need a little bit of hand holding.
How to videos
No more confusion when it comes to digital marketing strategy or social media platforms and techy stuff, but clarity and confidence in planning and using each social media feature to support you and your BIG BUSINESS GOALS so you can save time and get that till ringing quicker.
Exclusive monthly workshops, co-working sessions AND quarterly socials
Want to learn about another form of digital marketing? Come along to our monthly events where we usually have guest speakers. If you can't make it live, don't panic! - it's recorded and uploaded to the platform to watch when you're ready.
If you are struggling to commit time to social media marketing, our co-working sessions are perfect for getting your head down and doing what needs to be done. Chuck it in your diary and treat it like a non-cancellable meeting, so this month's social media content plan doesn't get pushed to the bottom of the to-do list for another week!
Support via a forum and WhatsApp chat
(And not one of those chats you'll mute!)
We LOVE supporting you, so you'll have the opportunity to ask your immediate questions and get immediate answers!
We've helped a member connect Business Suite with their Instagram and have talked through work arounds when something has glitched! Get the As to the Qs so you can move forward.
Imagine having your social media working like clockwork so you can spend more of your valuable time on the passion behind your business. 
Imagine breaking the Procrasti-Scroll Cycle and using your new found free time to hang out with your family on the weekends.
Imagine creating another revenue stream by offering out social media management as one of your services without feeling like a complete Imposter, and having that support in place so you can grow your social media manager side hustle too!
Are you ready to get started?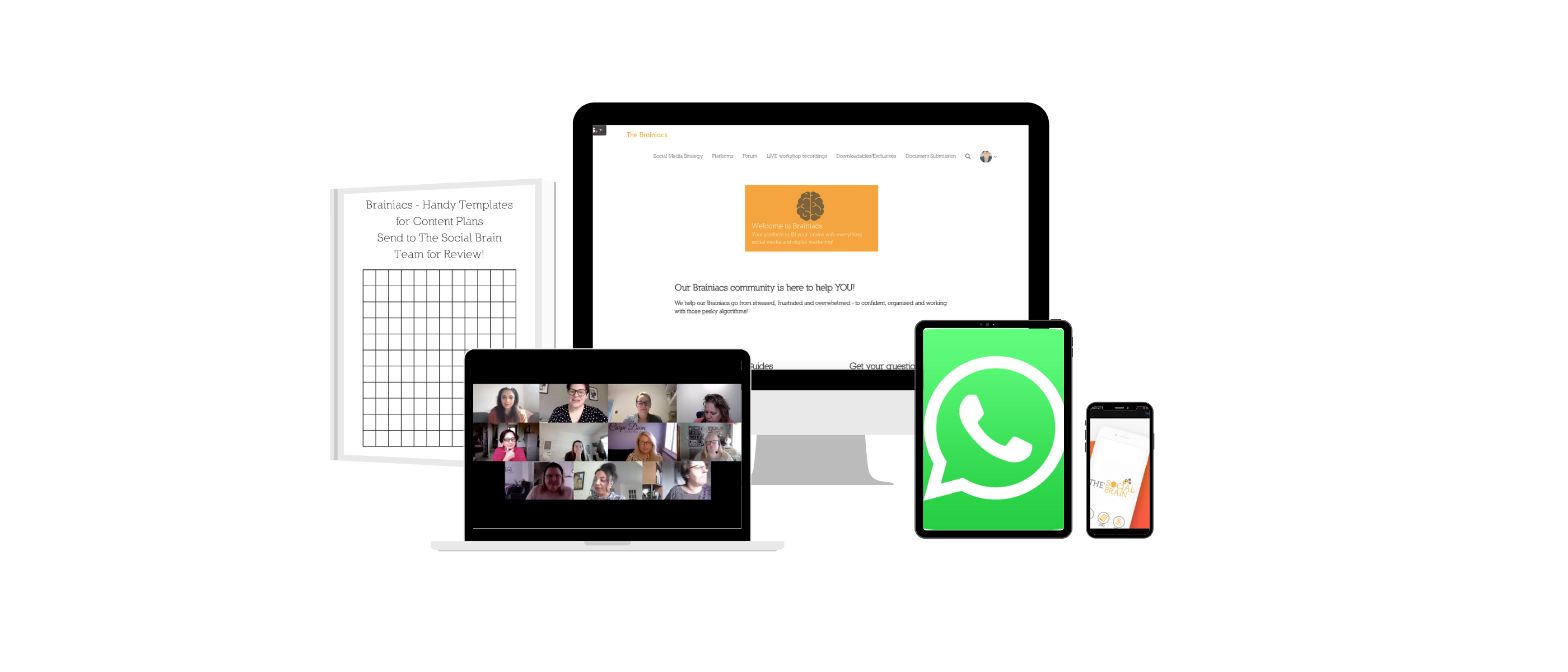 Monthly payments of £49 or 12 months for the price of 10 at £490
6 monthly payments of £147 or 6 months for the price of 5 at £735 


Brainiacs LITE

Brainiacs: The Full Experience

 🧠  Monthly live social media and digital marketing workshop with Frances and guest digital marketing experts - packed with the latest "what's working now for small business" tips, strategies and tech how-tos.

🧠 Unlimited access to previous workshop library (over 24 hours of expert-led content, ready to implement!)


🧠 A platform full of how to's and trainings for social media strategy and the platforms (an app's coming soon, so you can access it on the move!)




🧠 A WhatsApp group with the community so we can share our highs, wins and questions




🧠 FREE TICKETS to ALL workshops (and access to the recordings for as long as you're a member)




🧠 Templates that you can fill in AND get feedback from me and my team




🧠 First look at exclusive The Social Brain products and services

⚡️ Monthly co-working sessions where you can get your head down and get planning for the month ahead

⚡️ An affiliate scheme so you can get MONEY BACK when you recommend a friend



When you've checked out, you'll receive an email with your log in details and the link to the WhatsApp chat, so you can get started straight away. If you have any immediate questions, pop me a message and I can direct you to the relevant space.
"Oh my God, Frances - can I have your children?!"
Sam Byrne
via WhatsApp voice note, soon after watching a platform video
"Frances is quite amazing! She's passionate, caring and very patient. She's always on hand to offer advice and even tutorials. She always has great content ideas too!"
Carol Hussey
Brainiac, since 2020
In case we haven't met IRL, I'm Frances and I've been doing social media marketing for 12 years. TWELVE YEARS.
My mission is to get you as passionate about social media as I am - because I am really head over heels in love with the entire process from coming up with a basic strategy to working out what works best for you and your business.
My favourite part though? Seeing those EUREKA moments when your post has achieved what it's set out to do - because you've worked hard on the back end and you've been specific enough in your goal setting and strategy to support your dreams! I really live for empowering business owners to social media market themselves - there's no one who sounds more like you than you, right?
Brainiacs FAQs
"How long does the membership run for?"
Your initial membership will be for six months.
So many busy business owners buy courses with the best of intentions, but don't take action! By giving you a time limit, it means that you're more likely to use the platform. If you want to stay longer, you can stay at a reduced rate too!
"What if I don't have the time?"
This is a learn at your own pace platform, so there's no added pressure.
But remember, just like everything, you get out what you put in. If you don't commit, you won't get the results.
"I'm a complete beginner, will this work for me?"
Everyone starts from somewhere, so come on in!
The reason why we've got the WhatsApp and forum is so you can feel like part of a community and we can all help each other. It really is a lovely space to be in.
"What if I can't turn up to the workshops live?"
Our monthly workshops will always be recorded and uploaded to the platform, so you can always access them when you do have time.
If you have a burning question to ask an expert, you can always email it to me and I'll be sure to ask it on your behalf.